Bae Suzy merupakan artis Korea yang sedang ramai jadi perbincangan karena membintangi drama Korea yang berjudul "Doona" yang tayang di Netflix pada tanggal 20 Oktober 2023. Serial Doona diadaptasi dari webtoon yang berjudul "The Girl Downstaris".
Bicara mengenai Bae Suzy, dia merupakan artis yang pernah masuk 30 under 30 Asia di bidang Entertainment & Sports pada tahun 2021 versi Forbes, dan dia juga salah satu artis terkenal di Korea Selatan. Saking populernya, Bae Suzy sering kali dapat tawaran menjadi brand ambassador untuk sejumlah merek dunia. Oleh karena itulah bae suzy menjadi salah satu aktris Korea terkaya.
Menurut berbagai sumber, kekayaan bersih Bae Suzy mencapai 30 juta dolar AS atau sekitar Rp478,2 miliar (Kurs Rp15.940 per dolar AS) pada tahun 2023. Yuk intip sumber kekayaan Bae Suzy yang comeback lewat drakor Doona.
1. Aktris Film dan Drama Korea
Bae Suzy lahir di Gwangju, Korea Selatan pada 10 Oktober 1994, memulai karier di dunia hiburan pada tahun 2010 sebagai anggota Miss A, grup idol yang dibentuk JYP Entertainment. Lalu tahun 2011, Suzy memulai karir aktingnya sebagai pemeran utama di drama "Dream High". Pada tahun 2017, JYP Entertainment mengumumkan bahwa Miss A telah bubar, dari situ Suzy makin aktif tampil di beberapa film dan serial. Salah satu drama yang paling terkenal yaitu drakor Start-Up pada tahun 2020. Kemudian berbagai film dan serial juga dibintanginya, hingga serial terbaru Doona yang tayang pada 20 oktober 2023 kemarin.
Kesuksesan itulah yang membawanya menjadi selebriti Korea dengan bayaran tertinggi, mencapai sekitar 16.700 dolar AS (Rp266 juta) per episode pada tahun 2015.
2. Brand Ambassador dan muse
Karena popularitasnya, suzy membuat banyak brand ternama meliriknya dan mengajak kerja sama. Saat ini, Suzy menjadi brand ambassador Dior dan Lancome. Suzy juga sempat menjadi brand ambassador merek jam tangan Swiss, Longines.
3. Model Majalah
Sumber kekayaan selanjutnya yaitu dari penghasilannya sebagai model berbagai majalah. Wajah Suzy terpampang dalam sejumlah majalah ternama seperti Vogue, Marie Claire, Dazed, Cosmopolitan, Elle, Grazia, dan masih banyak lagi.
4. Model Produk Terkenal
Selain model majalah, Suzy juga sering menjadi wajah untuk produk-produk terkenal seperti Guess, Carin, Outdoor K2, Dashing Diva, Soju Chumchurum, Clalen, dan banyak lainnya. Ia dijuluki 'Queen of CF' (Commercial Film) karena kesuksesannya dalam iklan sejak awal kariernya di dunia hiburan.
5. Investasi Properti
Suzy memiliki aset properti real estate senilai Rp117,5 miliar. Awalnya Suzy membeli sebuah gedung di Gangnam dengan harga 2,77 juta dolar AS setara dengan 43,0 miliar pada saat itu, dan ia ubah menjadi gedung yang disewakan dan memiliki nilai pasar sekitar Rp95,6 miliar.
6. MC Acara Penghargaan Bergengsi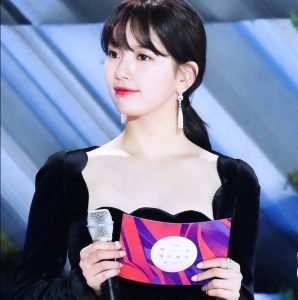 Selain karier sebagai aktris, penyanyi, dan model, Suzy juga punya bakat menjadi Master of Ceremony (MC). Suzy pernah memandu acara-acara bergengsi termasuk Baeksang Arts Award selama enam tahun berturut-turut, yang meningkatkan popularitasnya.
Nah, dari kisah Suzy membuktikan bahwa, selain kerja keras, pengelolaan keuangan yang baik dapat membantu mempercepat langkahmu menuju financial freedom. Salah satu cara yang paling mudah yaitu dengan mulai mengelola keuangan dengan cerdas. Yuk, mulai perjalanan finansial dengan cerdas dan capai kesuksesan finansial bareng Ximply! Kamu bisa download aplikasinya di Google Play Store dan App Store yaa.
Latest posts by Siti Nur Alawiyah
(see all)