Ximply berkolaborasi dengan Zi.Care, Tilaka.id dan Hewlett Packard Enterprise mendapatkan kesempatan untuk berpartisipasi dalam acara Seminar Nasional IX & Hospital Expo yang diselenggarakan oleh Asosiasi Rumah Sakit Swasta Indonesia atau yang lebih dikenal dengan singkatan ARSSI. Seminar yang bertemakan "Change Management in Hospital Organization in the Era of Hospital System Transformation" tersebut dilaksanakan di kota Solo, tepatnya di hotel Alila, dan berlangsung selama 3 hari yaitu tanggal 25-27 Januari 2023.
Berikut agenda yang telah disampaikan dalam seminar tersebut, yaitu :
Seminar hari pertama, 25 Januari 2023
Dukungan Pemerintah Daerah Bagi Perkembangan Rumah Sakit
Change Management di Era Transformasi Sistem Kesehatan
Sharing : Bagaimana Menerapkan Change Management di Rumah Sakit
Seminar hari kedua, 26 Januari 2023
Persiapan Rumah Sakit Dalam Implementasi E-Medical Record 
Sharing : Implementasi E-Medical Record 
Seminar hari ketiga, 27 Januari 2023
Hospital Entrepreneurship & Hospital Leadership
Sharing : Hospital Entrepreneurship & Hospital Leadership
Selain seminar, terdapat 6 workshop yang diadakan dalam 2 hari yaitu di tanggal 25 dan 26 Januari 2023. Sejumlah tokoh penting turut hadir dan mengisi acara tersebut, seperti Gibran Rakabuming Raka (wali kota Solo), drg. Iing Ichsan Hanafi, MARS., MH (ketua ARSSI pusat), Prof. dr. Laksono Trisnantoro, M.Sc, Ph.D (staff khusus Kemenkes RI), Prof. dr. Ali Gufron Mukti, M.Sc, Ph.D., AAK (Dirut BPJS Kesehatan RI), dan tokoh penting lainnya.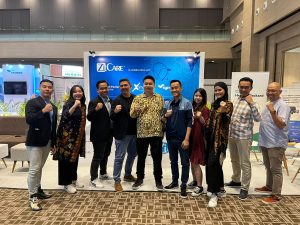 Dari kolaborasi tersebut, kami berharap dapat memberikan kontribusi di bidang kesehatan dan pelayanan rumah sakit, melalui layanan expense management yang ditawarkan oleh Ximply. Ximply dapat membantu rumah sakit dalam mengelola pengeluaran rutin dan juga honor dokter yang terintegrasi dengan aplikasi Zi.Care, sebagai Sistem Informasi Rumah Sakit dengan E-MR (Electronic Medical Record). Lebih dari itu Ximply bahkan bisa jadi perangkat dalam bentuk mobile application yang dapat digunakan oleh pasien untuk expense management mereka.
Baca juga : Penandatanganan MoU dengan HIPPINDO
#expensemanagement #ximply #seminarnasional
Latest posts by Chintya Rizki
(see all)