Ximply hadir dalam acara JCI Indonesia TOYP 2023 (Ten Outstanding Young Person) Gala Dinner, yang diadakan di The Sultan Hotel & Residence Jakarta (30/09/2023).
JCI (Junior Chamber International) adalah sebuah organisasi kepemudaan Internasional terbesar di dunia yang didirikan di ST. Louis, Missouri, Amerika Serikat. JCI beranggotakan pemuda yang berusia 18 – 40 tahun, dan tersebar lebih di 152 negara di seluruh dunia, termasuk indonesia.
TOYP (Ten Outstanding Young Person) ini menjadi acara rutin tahunan JCI Indonesia untuk memberikan apresiasi berupa penghargaan kepada para pemimpin muda yang membentuk masa depan Indonesia.
Event TOYP 2023 ini memiliki beragam acara, seperti Inspirational Keynote Speeches, Award Presentation to the Ten Outstanding Young Persons, Networking Opportunities with Influential Leaders, dan Sumptuous Gala Dinner and Entertaiment.
Dalam acara ini, Ximply berkesempatan memperkenalkan produk yang dapat memudahkan pencatatan pengeluaran untuk semua kalangan. Ximply ingin mengajak para pemimpin muda untuk berpetualang bersama mencapai kesehatan finansial. Yuk capai kesehatan finansial dengan menggunakan Ximply sebagai langkah awal untuk bantu kelola keuangan kamu. Download aplikasi Ximply sekarang di Google Play Store dan App Store.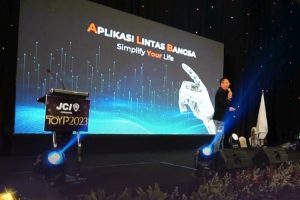 Baca Juga : Ximply Hadir di Acara Web3 Founders Day & Bali Founders Club
Latest posts by Siti Nur Alawiyah
(see all)